Top Cybersecurity Journalists
With the rise in cybersecurity and its clear cultural relevance, we also have seen a rise in cybersecurity journalism, which has become increasingly important as more Americans are victims of fraud and other crimes as a bi-product of our connected lives. That's why we've selected a top-tier group of cybersecurity journalists who have shown exemplary understanding and insight into this critical field.
Selecting the TOP Cybersecurity Journalists
Whether you have a smartphone, social media account, or simply use the internet for holiday shopping, cybersecurity's role in American lives has grown from a niche background subject to something most citizens should be active practitioners of in their own lives. The vitality of this level of online protection can be seen as we as a people shift from having computers in a coffee shop to having the camera on our computers in a coffee shop covered with tape.
With the rise in cybersecurity and its clear cultural relevance, we also have seen a rise in cybersecurity journalism, which has become increasingly important as more Americans are victims of fraud and other crimes as a bi-product of our connected lives. That's why we've selected a top-tier group of cybersecurity journalists who have shown exemplary understanding and insight into this critical field. We've pulled the data to find the best cybersecurity journalists with the broadest reach, the deepest insights, and a wide social following who lead the conversation on cybersecurity.
The reporters we have chosen to highlight on this list have been at the forefront of these changes, marking paradigm shift after paradigm shift, providing insight and prognostications into changing financial markets, and useful information for financial experts and the average person alike. Their reporting moves markets, makes or breaks fortunes, and helps build nest eggs. There has scarcely been a more important time for quality, responsible, financial journalism as we all struggle to understand the 21st-century economy. Our Top Financial Journalists help people around the world navigate these trends and understand their role in the recent surge in digital finance.
TOP Cybersecurity Journalists
10. Brian Krebs Krebs on Security
---
9. Tom Fox Brewster Forbes
---
8. Robert Hackett Fortune
---
7. Chris Bing Reuters
---
6. Nicole Perlroth New York Times
---
5. Dustin Volz Wall Street Journal
---
4. Ellen Nakashima Washington Post
---
3. Joseph Cox Vice
---
2. Lily Hay Newman WIRED
---
1. Kate Fazzini CNBC
10.
Brian Krebs
| | |
| --- | --- |
| zCurrent Publication: | Krebs on Security |
| Beat: | Cybersecurity |
| Articles: | 65 |
| Twitter Followers: | 208.4K |
| Twitter Username: | @briankrebs |
Brian Krebs started his journalism career at the Washington Post where he worked for fourteen years before becoming an independent investigative journalist. During his tenure at the Post, he interviewed 0x80 in 2006, a hacker who reportedly made over $6,000 per month hacking into and controlling personal computers on a per-computer commission basis. Krebs also broke the story that Target had been breached over 40 million credit cards and identified the individual responsible for selling the personal information online. He is also the author of the New York Times bestseller, Spam Nation, detailing organized cybercrime and establishing him as a de facto authority in the space.
Signature Story
Krebs' body of work is so accomplished and prolific, it's hard to pinpoint any one signature story, but the real work on the frontlines of cybersecurity journalism has to come in the form of securing an interview with a professional hacker and publishing a featured story about their work. The level of journalistic skill needed to get a hacker on record for a feature story is astounding and this type of work pushes the boundaries of cybersecurity journalism.
Why You'll Want to Read
It's hard to find experts in the digital landscape these days. With blogs and social media, publishing has been democratized – for better or worse. But Krebs has spent countless hours learning, writing, and crafting his understanding of the space to the point that it's refreshing to find someone as authoritative in their voice and insight as Krebs is. He's become much more than just a thought-leader, but a leading pioneer in cybersecurity journalism.
9.
Tom Fox Brewster
| | |
| --- | --- |
| Current Publication: | Forbes |
| Beat: | Cyber Security |
| Articles: | 831 |
| Twitter Followers: | 23.7k |
| Twitter Username: | @iblametom |
Tom Brewster has been covering cybersecurity for Forbes for the past five years and, before that, accrued bylines in the BBC, Vice Motherboard, the Guardian, and many other esteemed publications. All of this has led to his tenure as one of the leading cybersecurity journalists in the space. Tom's rise in the field began with two award-winning years back in 2012 and 2013 and then again in 2014. His breadth of expertise on the subject extends from exposés on the US government's cybersecurity crimes to the latest ploy by Google to incite hackers to join their forces for good. With such a fantastic resume, it's hard not to add him to our list of TOP Cybersecurity Journalists.
Signature Story
While Brewster's body of work is vast and impressive, his 2014, "Best News Story" winning piece on the US government's harassment of security professionals showcases his ability to bring to light incredibly well-researched data and insight with clarity and urgency for this critical aspect of modern life.
Why You'll Want to Read
While his investigative research may be world-class journalism, Brewster also employs a more casual language and tone with many of his works, often covering some of the absurdities in tech and security. Additionally, his ability to bridge common consumer products with major government intel operations (such as a Blackberry wiretap bringing down a cocaine cartel) add a refreshing excitement akin to a Hollywood movie for what can be a rather dry vertical.
8.

Robert Hackett
| | |
| --- | --- |
| Current Publication: | Fortune |
| Beat: | Cybersecurity |
| Articles: | 1,000+ |
| Twitter Followers: | 12.4k |
| Twitter Username: | @rhhackett |
Robert Hackett has established himself as one of the premier reporters in New York in cybersecurity and finance. He not only hosts and moderates a number of conferences ranging on everything from cybersecurity, fintech, business, and more but he's also worked on the Gerald Loeb-winning story covering the North Korean hack into Sony Pictures. He's also penned cover stories on bitcoin, blockchain, Google's Project Zero hackers, and many more stories on the space. That level of prolific quality cements his status on our TOP Cybersecurity journalists.
Signature Story
While it's hard to pinpoint exactly which feature stands out the most from Hackett's impressive portfolio, his profile on Zooko Wilcox, the cryptocurrency maven, is exceptional journalism that covers the intersections between high profile industry trends and how it may affect our daily lives.
Why You'll Want to Read
While most journalists in this area focus more on fraud and security and what cybercriminals may be conspiring to next, Hackett branches more into business trends and where the needle is moving in a variety of industries that rub against cybersecurity. He's not a forecaster, but his reporting keeps you on the crest of the cybersecurity wave and all that remains in its path.
7.

Chris Bing
| | |
| --- | --- |
| Current Publication: | Reuters |
| Beat: | Cybersecurity |
| Articles: | 1,000+ |
| Twitter Followers: | 29.8k |
| Twitter Username: | @Bing_Chris |
Chris Bing has risen his way through Reuters as one of the staples on the cybersecurity beat. Bing's writing lights up when he hits the sweet spot of cybersecurity meets national security. Whether he's covering how Louisiana's state computers have been compromised, or hacks on international officials through WhatsApp, if there's a cybersecurity issue that affects state or government related body or individuals, Bing can be trusted to report with accuracy and clarity; breaking exclusive stories that keep Reuters' reputation as a reliable news source intact.
Signature Story
As Bing has developed his voice and abilities, he's gone deeper into the investigative journalism side, including his latest piece for Reuters on how White House veterans helped the United Arab Emirates build a surveillance program unlike any other, with targets ranging from citizens to journalists to human rights activists and even terrorists. That level of high-profile reporting and the ability to make solid and exposing connections helps drive journalism to newer heights and holds countries and corporations accountable.
Why You'll Want to Read
If you're invested in the cybersecurity industry in any way, Bing's beat is a must-read for maintaining an understanding of how that sector affects national security interests for a variety of major countries. That knowledge alone can help any entrepreneur create business opportunities, as well as showcase where many cybersecurity trends are leaning in the public sector.
6.

Nicole Perlroth
| | |
| --- | --- |
| Current Publication: | New York Times |
| Beat: | Cybersecurity |
| Articles: | 866 |
| Twitter Followers: | 69.8K |
| Twitter Username: | @nicoleperlroth |
Nicole Perlroth covers cybersecurity for the New York Times and has won several journalism awards, most notably for her coverage of the Chinese government's efforts to steal and trade military and industrial secrets. Her work is world-renowned, far-reaching, and her writing is clear, urgent, and skillful. In fact, her ability to uncover and weave cybersecurity narratives that touch at the heart of being a human in the 21st Century is one of the reasons why her story on uncovering Chinese military hackers in the back server room of a Wisconsin welding shop was optioned by the Weinstein Company and also why we've put her on our list of TOP Cybersecurity Journalists.
Signature Story
Nicole's blistering exposes uncovering how a former Fox News executive is using the Kremlin's divisive playbook as a way to not only reap discord into American politics, but also cash in on ad dollars through driving clicks and traffic with incendiary, clickbait headlines, petitions, and conspiracy theories is a great representation of her capabilities. While it may not be directly in the square of cybersecurity, it encompasses a broader theme of what is and isn't real in America on the internet, and how our data can be used and compromised against us in a variety of ways.
Why You'll Want to Read
As with all New York Times reporters, Perlroth's work is timely, critical, and conversation-leading. She can cover everything from national breaking news to deep, research-based, stories that uncover what's really going on in the cybersecurity sector and where the needle is moving within that industry. Additionally, her writing and storytelling capabilities contain enough drama that Sony Pictures has optioned one of her stories as a feature film, proving that cybersecurity is a vertical that can be full of excitement and intrigue.
5.
Dustin Volz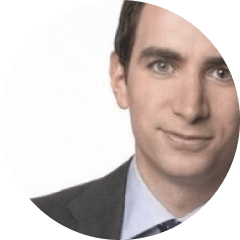 | | |
| --- | --- |
| Current Publication: | Wall Street Journal |
| Beat: | Cybersecurity |
| Articles: | 4,000+ |
| Twitter Followers: | 26.8k |
| Twitter Username: | @dnvolz |
Dustin Volz is no stranger to the cybersecurity beat. As his journalism career flourished so, too, did the cybersecurity sector and vertical. First starting as tech correspondent for the National Journal, he moved on to Reuters, where he began his career in cybersecurity journalism, and then found his way to the Wall Street Journal, where he's become a key reporter in the cybersecurity sphere. During his time at Reuters, he took on Russian-related election hacking and cyber conflict between nations. At the Wall Street Journal, his reach ranges from the sparring battle between Congress and Facebook to the FBI and the NSA. Or, as he likes to say, he writes "about a lot of three-letter agencies."
Signature Story
While his reporting on cybersecurity maybe some of the best in the industry, he was one of the three reporters that worked on crafting the Wall Street Journal's breaking coverage on President Trump's phone call with Ukraine in September that has consumed the country and the rest of the world.
Why You'll Want to Read
Dustin's work at the Wall Street Journal provides more than just a download of the latest in cybersecurity, it's a look at how intersects with major world events that ripple down to our daily lives. While he may be reporting on the NSA, CIA, or FBI in his work, it's also in concern with how we communicate ourselves; whether its via Facebook, text, or WhatsApp. Volz reporting scales more than just cybersecurity as a pertinent 21st century vertical, but the issues with technology and communication as a core part of being a human.
4.

Ellen Nakashima
| | |
| --- | --- |
| Current Publication: | Washington Post |
| Beat: | Cybersecurity |
| Articles: | 3,500+ |
| Twitter Followers: | 68.5k |
| Twitter Username: | @nakashimae |
Ellen Nakashima won a Pulitzer Prize for her work with the Washington Post in 2014 for reporting on the hidden scope of public surveillance on American citizens. She then won it again in 2018 for her work on President Trump's relations to Russia and the events leading up to the Special Counsel's investigation. While her beat at the Washington Post may focus mostly on national security, cybersecurity has inevitably fallen within that reach, and for which she's written with the award-winning quality and accuracy that the Washington Post is known for.
Signature Story
Well, obviously, the Pulitzer Prize winning reports on the NSA's secret surveillance program that won for public service in 2014. During 2013, she – and a number of other Washington Post reporters – broke stories based on leaked documents, sources, and wild amounts of research about how the NSA, FBI, and CIA used a program called PRISM to hack into Yahoo, Google, Apple, and other major internet company servers. These documents, among others, were leaked by Edward Snowden.
Why You'll Want to Read
It's one thing to win a Pulitzer Prize – it's another to win two. Through Nakashima's time as a journalist, she's been at the epicenter of nearly every major national security and cybersecurity story that has come out in the past ten years. Additionally, she's expanded her body of work beyond security journalism and into biographical. She's the co-author of "Prince of Tennessee," a lauded biography of Al Gore she coauthored with a fellow Washington Post writer. If you want to read some of the best writing you can on such a critically important subject – you'll want to read Ellen Nakashima's work.
3.

Joseph Cox
| | |
| --- | --- |
| Current Publication: | Vice |
| Beat: | Cybersecurity |
| Articles: | 1,000+ |
| Twitter Followers: | 67.5k |
| Twitter Username: | @josephfcox |
Joseph Cox reports on cybersecurity for Vice's Motherboard, the tech and cybercrime focused beat for the ultra-hip Vice publication. While many on our list have spent years dedicating themselves to the craft of breaking and reporting leading stories on cybercrime, Joseph Cox and Vice have perfected the art of taking that news and distilling it down to what matters to the consumer. Yes, cybercriminals are hacking into the WhatsApp of major national security figures, here's what that means for the laymen. That, by any stretch of logic, is just as applicable, important, and necessary to being a cybersecurity journalist as it is to report on how Russia is using Facebook to sow discord into American lives.
Signature Story
For about three years running, Vice has created the Motherboard Guide to Not Getting Hacked, which is exactly as it sounds like it is. This running piece is one of the most important things to be published on cybersecurity every year and is critically underrated and unrecognized for its service to anyone who uses the internet anywhere. It expertly navigates the basics of how to protect yourself against cybercrime with clear, succinct explanations of concepts and actionable steps that regular citizens can take.
Why You'll Want to Read
If you've ever wanted to know how you can protect your family from getting your Ring camera hacked, this is the journalist to read. If you ever wanted to know how to protect your passwords, your financial information, your phone numbers, and any other sensitive information that may be on the internet, Joseph Cox has expertly melded major current events in cybersecurity with actionable steps for common citizens.
2.

Lily Hay Newman
| | |
| --- | --- |
| Current Publication: | WIRED |
| Beat: | Cybersecurity |
| Articles: | 683 |
| Twitter Followers: | 10k |
| Twitter Username: | @lilyhnewman |
Lily Hay Newman leads the way for cybersecurity at WIRED and contributes with astounding authority on consumer-related cybersecurity issues. Yes, of course, her beat covers national and global cybercrime, but the real insight and meat of her body of work is found on the lines between our ever-increasing Internet of Things lifestyle and the vulnerabilities we're exposed to. She's an expert in weaving back and forth from covering Iran's attempts to shut out internet from its citizens to making holiday gift guides with cybersecurity kept in mind for your loved ones.
Signature Story
Newman's reporting has always focused expertly on the connection between cybersecurity and our daily lives, but one of her stories stands out in particular in this field. Her reporting on how hackers were able to break into a security patch in a widely popular insulin pump and show manufacturers just how effectively they can either withhold insulin or give someone a deadly overdose stands perfectly at the intersection of major tech news and how a common, household product can be affected. The hackers were able to finally convince the manufacturer to make the security updates necessary because of this.
Why You'll Want to Read
If you've ever wanted to know why or how the opaque and oftentimes confusing sector of cybersecurity can affect your day-to-day life, then Lily Hay Newman is an important journalist to be on your reading list. Her writing keeps readers abreast of any and all developments in the consumer sphere of influence and provides insight and expertise on the subject that allows readers to walk away knowing more on how to keep themselves safe than previously.
1.

Kate Fazzini
| | |
| --- | --- |
| Current Publication: | CNBC |
| Beat: | Cybersecurity |
| Articles: | 384 |
| Twitter Followers: | 2,590 |
| Twitter Username: | @KateFazzini |
Kate Fazzini has held one of the most hands-on careers of anyone on this list. Before she became a cybersecurity journalist she actually worked as the VP of cybersecurity for JP Morgan Chase, as well as a principal in the cybersecurity practice for the Promontory Financial Group, a division of IBM. That expertise and experience on the frontlines are one of the reasons why she's risen as one of the best cybersecurity journalists out there as well as why she's landed a spot on our list.
Signature Story
While Kate's reporting is clearly some of the best in the industry, we're actually more in love with her book than anything. Fazzini's ability to dramatize what are, ostensibly, individuals sitting at computer screens is thrilling and illuminating. From black hat hackers abroad to the white hats trying to protect us at home, Fazzini gives readers a tantalizing yet accurate slice of life at how cybercriminals are constantly evolving their practices and techniques with the latest developments in technology.
Why You'll Want to Read
Much like how many sports talk shows prefer to have former athletes as their hosts to provide an inside opinion and expert angle, so too does CNBC with Kate Fazzini. Her experience lends herself an upper hand of authority and thought leadership in the space and makes her required reading for anyone has a stake in the cybersecurity game.